About Our Services
I specialize in locating Twin Bonanza airframes for restoration. I also assist in pre-buy inspections all over the United States at prospective buyers request. Through my hands on experience along with my A&P mechanic, we have built restored, repaired more Twin Bonanza's than we can count. With over 50 years combined of experience, my team can help you find a Twin Bonanza candidate either in or out of license. We will inspect it, evaluate its potential and cost of restoration, or simply help you find a flyable airplane that will meet your needs. We are located in Upstate New York, and have been here for over 25 years at the Schenectady County Airport (SCH). Fly into the Albany airport, which has excellent airline service, or fly into Schenectady County Airport in your own plane and pay us a visit. If you are looking for one of the biggest values in general aviation - the Twin Bonanza, give us a call. Our years of experience will help you make the right choice.


About Gregg Cadieux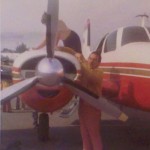 Gregg Cadieux earned his private pilots certificate/license in 1982. His father was the culprit for getting him involved in flying. Since the time he flew in his fathers Beechcraft Twin Bonanza, Gregg has had an affection/affliction for Twin Bonanza's that continues today. For over 25 years, he's amassed an extensive inventory of hard to find surplus and New Old Stock Parts for this airplane, which was last produced in 1963. Gregg has owned a number of Twin Bonanzas and currently owns 3. The Twin Bonanza is well known for being one of the strongest airframe designs ever built, and was the forerunner to the Beechcraft King Air, which is still in production. Gregg has a passion about this wonderful airplane and loves helping aircraft owners discover this lesser-known, undervalued aircraft.
Aircraft for Sale
Beechcraft C50 Twin Bonanza for sale. Just completed a light aircraft restoration and extensive inspection. This aircraft has a freshly overhauled left engine and 800 hours on the right. It is a sound, beautiful classic. Call (518) 424-8235 for details. $79,900.